World Cup 2022 official opening intro released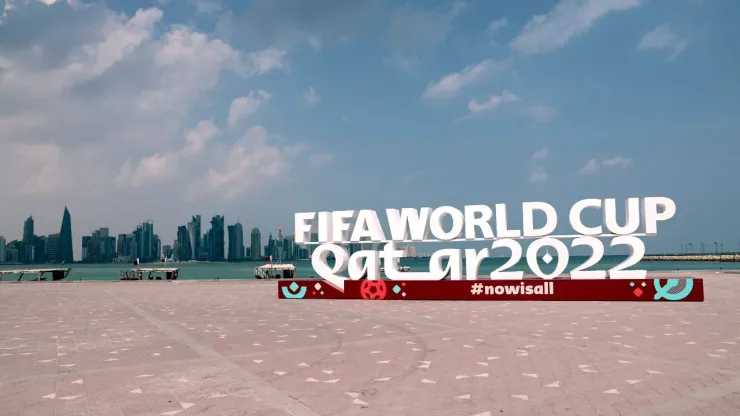 FIFA unveiled the official intro credits for World Cup 2022 in Qatar. FIFA's World Cup Twitter account released a 40-second video that television viewers see prior to every single match of the tournament.
The video begins with the official logo of the 2022 Qatar World Cup. Then, there are children playing soccer near the sand dunes in the Middle Eastern country. Two Doha stadiums, Khalifa and Education City, follow that.
Eventually, the video shows all eight of the 2022 World Cup stadiums. This includes Ahman bin Ali, Al Janoub, Al Bayt, Al Thumama, Stadium 974, and finally Lusail. Lusail Stadium is the site of the World Cup Final on Sunday, Dec. 18. This is by far the largest arena for the competition. Lusail has a capacity of about 80,000 people.
Qatar landmarks and historic moments fill World Cup 2022 intro
Along with the stadiums, other landmarks in and around Doha feature in the opening credits. For example, viewers see Al Bidda Park, Al-Fanar, the Museum of Islamic Art, the National Museum of Qatar and Doha's skyline.
Historic World Cup moments sprinkle in as well. For example, sport icons Pele, Diego Maradona, Fabio Cannavaro and Philipp Lahm pop up in the sky while the stadiums and landmarks feature. Throughout the video, viewers can spot all 32 flags from the competing nations, with Qatar featuring heavily, of course.
World Cup fans have more than just the video, too. Spotify has an audio version of the video as well. Already, the song has over 20,000 streams on the service. FIFA airs this video on television prior to every match of the Qatar World Cup.
The 2022 World Cup in Qatar starts on Sunday, Nov. 20. Host nation Qatar will get things going as they face Ecuador in the opener.